The Ministry of Utmost Happiness by Arundhati Roy is dark, dense, dragged & unnecessarily prolonged – opinion
The contemporary world of English fiction is strange. You may see appreciation for the books that deserve none. And for the books that deserve praise from all around, you may see none at all! Though we can only glance from the outside as outsiders, readers and critics of no value (because the strange world of contemporary English fiction has space for all elites who play creators and critics). This author writes and that author sings songs of appreciation. And when the table turns, it repeats alike. Do you get it, friends? And therefore, you may have seen the world of English fiction going gaga when Arundhati Roy remembered to write her second novel after 20 years – The Ministry of Utmost Happiness (published in 2017). As soon as the novel was published, 'words' of appreciation poured in – unmissable, breathtaking, powerful, sends shivers to the core, dark reality and so on. However, none (or one or two) cared to tell the reasons behind such 'words' of appreciation. And when critics like us, those who read the books actually, try to bring the facts about such books to readers at large, many come to attack us as – ideologically motivated, politically inspired, hate-monger, illiterate, and many other illustrated adjectives are thrown at us. Well, time has helped us (I believe I say it for all those who read and critique) become thick-skinned.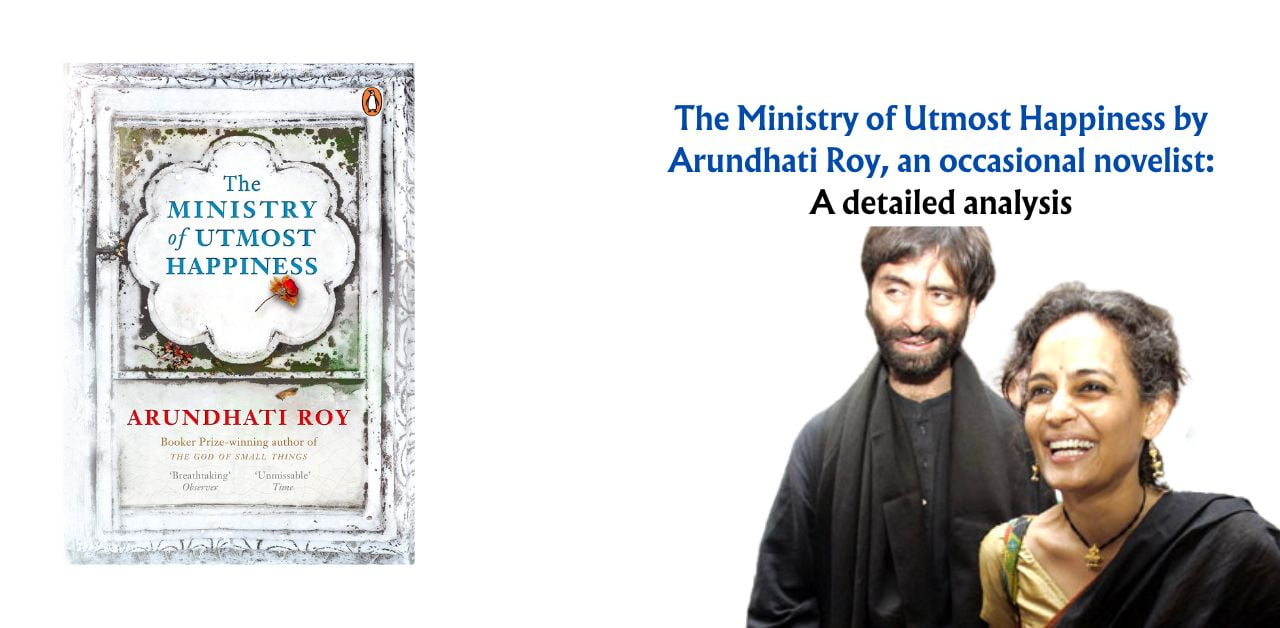 The Author, The Award, and The Dilemma:
Who is the author of The Ministry of Utmost Happiness? Those who observe Indian English literature will certainly know it's by Arundhati Roy. However, how do we know her? How does the audience know she is Arundhati Roy? It is because her debut work, The God of Small Things, won the Booker Prize. So, the fame lies in an award. And the award lies on… leave it! The Ministry of Utmost Happiness by Arundhati Roy, many 'critics' writing for 'prestigious' platforms believe, presents a sprawling narrative set in contemporary India. Well, a few critics also agreed that fame and hype belie the audience by hiding the lacking writing skills that cannot hide the fact that this novel, written after 20 years after the first one, fails to deliver the promises that 'critics' make on the behalf of the author. Multiple threads, many timelines, and many characters, it seems, are forcefully packed in a package that cannot hide its leaks. And therefore, I do believe, common readers who read novels for fun and leisure will find it difficult to navigate the storyline – where is it, by the way?
Lapses in Writing Style:
One of the notable shortcomings in The Ministry of Utmost Happiness lies in Roy's writing style. 'Critics' who are 'told' or just spontaneously applaud anything written by particular persons have lauded the 'prose' of Roy in this novel for its poetic beauty. I am not sure from where that poetic beauty has been coming, but it often becomes overly dense and convoluted, too much for readers to bear and get along, at times. And thus, detracting from the clarity and impact of the narrative, the author pushes readers away from the story. In other words, Roy's tendency to employ intricate metaphors and digressions can hinder the reader's engagement with the story, making it harder to follow the plot and connect with the characters. And one can clearly see that this overindulgence in descriptive language has dragged the novel to a length that's entirely unbearable! Also, the long-tailed descriptions of events otherwise describable in limited words sometimes overshadow the core themes and messages of the novel, resulting in a lack of coherence and direction. And I do believe that critics who actually read the book may agree with such assessments (once they read). Let's end this section with an example many will relate to.
"The daylight was on the run, hiding behind the city's tall buildings, cowering, preparing to lie down flat on its back, shielding its face from the pale moonlight that stood tall, waiting for the sun to disappear completely before it came out in all its glory" (Roy, 2017, p. 112).
One, two, three, four or even 100 times might have been beautiful! However, every time you need to describe a casual transition from day to night or night to day might not require such a long-tailed description. It is like reading Hardy minus his (genuine) lyricism.
Lapses in Characterisation and Reader Engagement:
Though there are many areas where this novel by Roy lacks, the second area of focus, and an important one, is its characterisation and reader engagement. Though I am sure Roy must not have meant to prove herself as the reincarnation of Leo Tolstoy by trying to create a large cast of characters, she has anyhow dragged the progress of her novel by doing so. The overwhelming number of characters not only annoys readers but also leads to underdeveloped and thinly sketched individuals. Consequently, readers will struggle to form strong emotional connections with the characters, impacting their intellectual, emotional and even general investment (of time) in the story. In comparison to contemporary novels that excel in character development, such as 2 States by Chetan Bhagat (and others by him) or complex novels like The Book of Chocolate Saints by Jeet Thayil, The Ministry of Utmost Happiness pales and fades in terms of character development and reader engagement. Though novels like those by Chetan Bhagat may not be considered serious fiction by admirers of Roy, Jeet Thayil's work may be seen as a good competitor and even a winner when pitted against Roy's work.
Explore – The Ministry of Utmost Happiness Book Review
Lapses in Coherence and Theme Exploration:
While Roy's novel attempts to address important social and political issues, it falls short in its execution. Remember that I am not even touching on the political and ideological bias that this author has displayed on many occasions. I am merely touching on the technicalities of the novel. The narrative lacks coherence, not occasionally but almost throughout the length of the novel. It is mainly because of the disjointed plotlines and a fragmented structure that can obscure the central themes and messages the novelist wants to convey. The White Tiger by Aravind Adiga, a novel of the dark side, when compared to this one by Roy, excels in its message delivery with a theme that does not lose its coherence with time and development in the plot. I am also not sure about the reasons behind this fascination with magical realism elements by the authors like Rushdie and Roy. It washes away entirely or severely impacts the overall impression of the social commentary. Serious issues like religious harmony, gender justice, identity, existential crisis, and more get overshadowed by the author's lofty prose explorations. Bartering linguistic sophistication for the treatment of theme may not have been a good deal, after all!
"She had a voice, a cavernous voice. Her voice could have been melted and poured into a wineglass" (Roy, 2017, p. 58).
Comparisons to Contemporary Novels:
I have already tried to compare this work with works by Bhagat and Adiga. Thayil is a fair and better comparison for the present work. However, let's try to compare Amitav Ghosh and Roy. Ghosh, credit where it's due, exhibits a mature balance between language and theme. His novels, right from the days of The Shadow Lines to the latest ones like The Gun Island, have been reflecting a good hold on the issues being discussed and also the technical temperament of function. Roy's second, and rather ambitious, novel The Ministry of Utmost Happiness, neither shows a fine balance between theme and language nor does it manage to get readers involved with the storyline(s). Even with all the slow actions that seldom take place in novels by Jhumpa Lahiri, like The Namesake, I will pick reading her over Roy. Roy's novel has an abundance of action but to no benefit. It has many characters but to no avail! It lacks… on many fronts… and falls short in comparison to other works by her peers, successors and predecessors.
Conclusion:
The Ministry of Utmost Happiness by Arundhati Roy traps itself in an illusion of showcasing moments of poetic beauty and keen social commentary. However, it falls short in terms of writing style, character development, coherence, and theme exploration. An overly loaded plot, apparent lack of narrative focus, and expectedly underdeveloped characters hinder readers from establishing any connection with the storyline. Anyone may have individual opinions about the novel. Some might like it and others may dislike it. However, a reader who has read other novels by contemporary authors and authors before them may agree, after reading the work to a length, that Roy's work has many lapses. Favourable critics and media houses may have tried to sell her award from the past, readers will see through it (and many have already done so). Amidst such publications and all the hype, questions like why Chetan Bhagat is popular should not arise. Bhagat and others have seized the opportunity already. They have given readers what they want – a few good hours with a story that tells some tale…
by AM for Desi Readers